When is Columbus Day celebrated in the United States?
Columbus Day is a Federal holiday in the United States celebrated annually on the second Monday in October. It is a holiday commemorating the anniversary of the Spanish navigator Christopher Columbus's expedition reaching the shores of San Salvador Island in the Bahamas archipelago.
Most government offices are closed during the holiday, and post offices, banks, and stock exchanges are closed. Schools are usually open on this day, as are most American businesses and companies.
Columbus Day is a holiday originally begun to be celebrated annually in New York City by residents of Italian descent in 1866 because Columbus was considered Italian.
However, it is not celebrated in some states. In particular, it is not a public holiday in California, Nevada, and Hawaii.
In some U.S. states, instead of Columbus Day, they celebrate Indigenous Peoples Day. They acknowledged that European countries brought to the then inhabitants of the Western Hemisphere. In recent years, violence, disease, and other suffering have led to reevaluating the holiday, including calls to abolish it and commemorate indigenous commemorations.
How is Columbus Day celebrated in the United States?
Official events to commemorate the anniversary of America's discovery begin with a service of worship. Some U.S. cities hold special church services, parades, and ceremonies.
Most celebrations center around the Italian-American community. Festivals in New York City and San Francisco are especially noteworthy. In Hawaii, Columbus Day is also known as Landing Day.
In New York City, Denver, and many other cities, Columbus Day, more than 500 years after the historic arrival of an expedition of three ships to the shore of a small island in the Caribbean Sea, celebrations, parades, and theatrical performances depicting Columbus' discovery of America are held.
As such, the holiday in Florida is not celebrated with large parades and fireworks. But every year, there are activities related to yachting and watersport.
How to celebrate Columbus Day in Miami, Florida?
Columbus Day Regatta
The Columbus Day Regatta, which commemorates the voyages of the discoverers, was originally the focal point of the celebration.
Sailors from all over the world come to Miami to participate in the oldest regatta. The Columbus Regatta takes place in Key Biscayne over two days and traditionally on weekends. It is the oldest event held in the waters of Biscayne Bay.
Usually, about 50 boats participate in a grand race around the bay, and countless spectators come to watch and admire the show.
What to do in Brickell, Miami?
Brickell Avenue is the financial district of Miami, USA, where many international financial institutions are located. The architecture shows a harmonious composition of offices, apartment buildings, high-rise buildings, and hotels. You can often see famous actors and businessmen on the streets.
Even a walk in this neighborhood will inspire you: you'll want a new level of life, fulfill your dreams, and move to a better neighborhood. The skyscrapers in Brickell Key will blow your mind.
A boat ride around Star Island
Many of the rich and famous from the business and art world who live in Miami own beautiful mansions in the seclusion of Star Island, conveniently located midway between Miami Beach and Miami. Most Star Island homes overlook the water and are surrounded by beautifully landscaped gardens.
With only 32 mansions, Star Island is an artificial oval-shaped island created in 1922 by Carl Fisher, one of the founders of Miami Beach.
Star Island shines like a floating jewel in the aquamarine waters of Biscayne Bay between Miami and Miami Beach. The water surrounding the island is part of the Biscayne Bay Aquatic Reserve. The island is distinguished not only by its prestigious location and a very small number of residents but also by its absolute safety, as it can be accessed only through a single guarded bridge or on your yacht.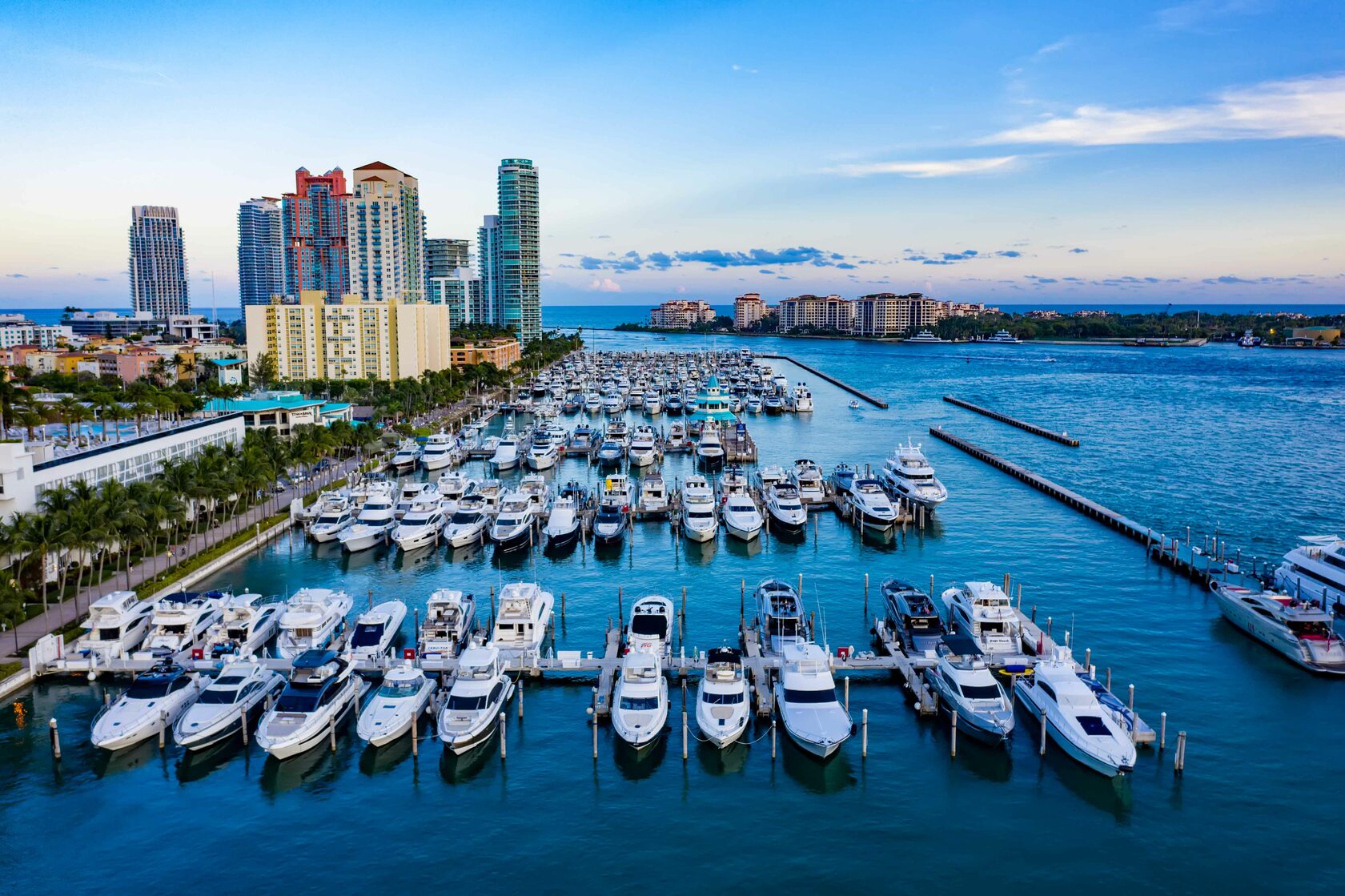 Romantic dinner on a yacht in Miami
This kind of romance can only be compared at rooftop bars.
How can you fish in Miami?
Fishing in Miami is an extreme and emotional pastime. The beaches are important for some tourists, some will take up outdoor activities or extreme sports, and some prefer to fish. If you are a true fan of fishing rods and spinning, renting a yacht in Miami with access to the open ocean will be a memorable experience.
Not only can you get a lot of colorful emotions and thrills when fishing on the open ocean, but you can also catch some gorgeous fish.
There are a lot of variants of water hunting; it depends on what you like: from a boat, from the shore, or a kayak. Someone likes to fish in solitude, takes a kayak, prefers a fun pastime with a group of tourists, and goes to the open sea on a yacht.
The best dishes from the personal chef
Water adventures in Miami are intense; you can work up a good appetite afterward. Many tourists are coming to Columbus Day, so you might not make it to the restaurant because of the long line. But there is always a way out.