Why do I love the work of a private chef in Miami, Florida?
For this magical place and nice people. Because it's meeting and interacting with incredible people that you could write a book about. This is a place of strength and inspiration. People come here to fill up with energy, slow down and see the beauty of life. And they know how to live a luxurious life in Miami.

A client of mine shared that meeting a Miami private chef has changed her life.
This story happened one cloudy morning in South Florida
The divorce papers were on the table. I calmly pushed them off the edge, though there was a hurricane of emotions inside. I pulled myself together. I took a slow breath, exhaled, and went to the kitchen. Well, it wasn't that I wanted to eat, but I knew I had to have something to eat.

I hadn't eaten anything in 24 hours. I took some convenience foods out of the fridge. It was hard to call it food. It was more like swamp slop. There was still a lonely slice of cheese in the fridge, and it reminded me of my life. I sighed sadly.

A phone call saved me from the unappetizing slop. It was Lily. My favorite and best friend who is always with me a shoulder to cry on. I was lucky to have her, not everyone has that kind of support.

"Hi, how are you? What are your plans for your birthday, honey?" asked Lily.

"Oh Lily, hi. You're fine. Bill signed the divorce papers and I don't feel like having a birthday party. I'm not in the mood for it."

"You're just like that. You should have divorced that asshole a long time ago." Lily quickly responded to me. "All he did was humiliate and hurt you. You've been suffering for six months."

"Look, I don't have the energy to cook. And I don't want to go out in public. This whole thing is annoying to me right now."

"Honey, the way you've been neglecting yourself. I can't let it go on like this. Trust me, dear friend. I'll be at your house Friday at 4:00."

"Okay," I said calmly.
The first meeting with a private chef in Wynwood, Miami
I didn't know that in three days my life would change, that I would taste life again. It's amazing how meeting a stranger can affect us.
As told, Lily arrived at 4. She is always punctual. I opened the door and saw her with a young woman in a black suit.
"Meet Marina, our
personal chef
today," Lily said and smiled broadly. This is the
top chef in Miami
."
"Hi, nice to meet you. I'm Marina and today I will be your guide to the world of gourmet cooking," said the woman in the black suit in a ringing voice.
I saw a graceful woman; she looked great and stylish. Her sincere smile caught my eye. I slightly envied such lightness. I hadn't felt like this in a long time.
"I'm Katie," I said quietly. "Nice to meet you."
Marina took the grocery bags and went into the kitchen as confidently as she knew every kitchen in Miami. I whispered through my teeth to Lily, "Are you crazy? A
luxury private chef
in Miami Beach, Fl? It's expensive to
hire a personal chef
..."
"It's the right amount for you and your health," Lily retorted sharply.
"Lily, I don't even have nice dishes, I don't know if I should..." I continued confusedly.
"Don't worry and enjoy your evening," Lily interrupted me softly and ran to Marina in the kitchen.
"Okay, there's still no point in canceling the order. I'll enjoy the evening." I thought to myself.
Everything happened like magic. In the blink of an eye, my little kitchen was transformed into a
luxury catering
Miami restaurant. There were fresh flowers on the table, and besides the dishes, there were other decorations on the table. Everything was real, no plastic.
Marina invited us to the table. It was time to serve the first appetizers.
The food I've only seen on the pages of magazines
It was like I was hypnotized by Marina's graceful movements. I have not seen such a
personal chef service
, even in the best restaurants. Everything was thought-out in every detail: the drinking water with apples, strawberries, and mint, pretty tableware. The table looked so rich and beautiful.
"I present to your attention the light appetizers." Said Marina. "beetroot carpaccio with raspberries and goat cheese. After that, there will be a black Tiger Shrimp on a fried pineapple."
"Wow! I didn't think beetroot carpaccio with raspberries and goat cheese tasted so good." Lily willed with delight. "It tastes so good."

There were Cheese Raffaels and a glass of French Champagne on the table. While Marina was cooking, we tried the Cheese Raffaels with French Champagne.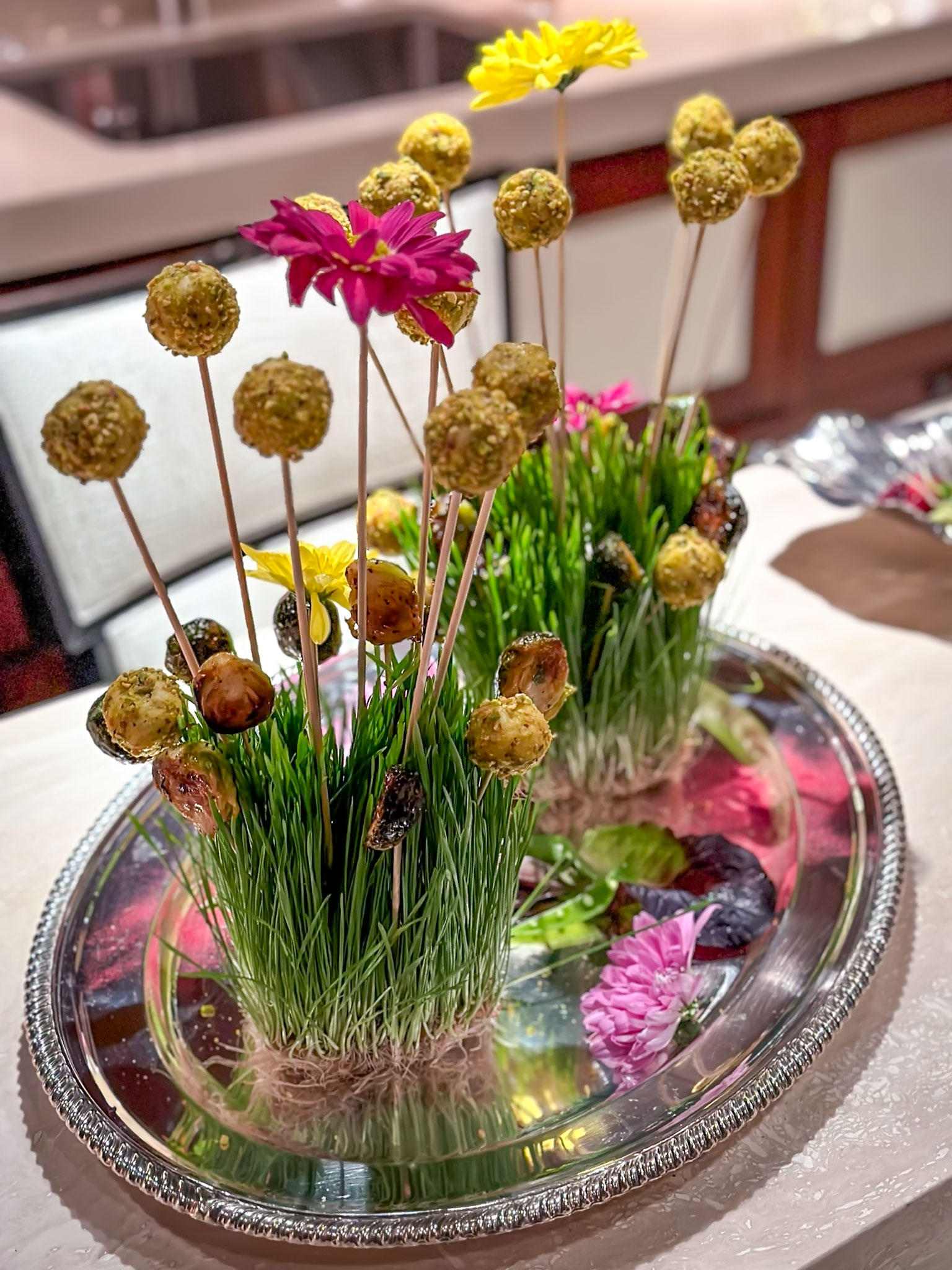 "Hmm... It smells so good. What is it?" I asked wondering. I felt that my appetite began to awaken.

"It's Risotto with pumpkin, truffle oil, and Parmigiano Reggiano cheese" came Marina's reply.

The names of the dishes made my mouth water, but when I saw the serving, I was dumbfounded.

Then Marina served Lamb chops with herbs, baked eggplant, and tomatoes. "All the products are bought on the farm, so they give off such juice and flavor."
"Yes, thank you. I want to show my customers that beautiful food is delicious food. We are what we eat. In a restaurant, when a chef is cooking, he doesn't see the satisfied faces of the people eating his food. Delicious food and positive energy make every night memorable."
It made me want to cross out of my memory that gray liquid I used to call food. And urgently run to the market in the morning for fresh fruits and vegetables.
I remember the event planning with incredibly delicious meal preps: veal with cherry sauce, and tender tiramisu for dessert. Marina told us what was in the dishes, and their flavor combinations, and gladly answered our questions. She told us funny stories from the culinary world. Lily and I ate everything on our plates.
While we enjoyed the dessert, the dishes were washed, and I even thought the kitchen was cleaner than it had been. We thanked our
Miami chef
for a wonderful evening. Some fresh flowers were left on the table as a nice reminder of the evening.
It was my first birthday and I felt like a guest at my party with an excellent
catering service
. From that day on, when one of the
best chefs in Miami
showed up in my life, my life slowly began to change.
After hiring a private chef in Miami I learned to trust.
I couldn't imagine having someone cook in my kitchen or grocery shopping. Having grown up on the principle of "all by myself, " a complete stranger comes to my house to cook for me. After that night, I began to trust other professionals as well. I had more time for myself.
A
chef hire
was the first step to a new life. Thanks to Marina, I now know the difference between just being a
good chef in Miami
and
the best catering in Miami
.
I began to appreciate high-quality food.
It's a well-known fact that fresh food is healthier than fast food. But let's be honest, not everyone follows a healthy diet. Thanks to the
personal chef in Miami, Fl
, I became convinced that healthy food is good food. Eating healthy is about respecting yourself and your environment through food. The body gets its vitamins and energy from fresh foods.
I realized that I deserved a better life.
A
personal chef
gave me back my taste for a better life. Today, it's an affordable luxury for modern people. Then Lily gave me the most precious gift - the emotion and feeling of being taken care of. Expensive equipment becomes obsolete over time, the jewelry does not fit all types of clothing. And this gift is always in my heart.
The next birthday I spent in a luxury villa with a
private chef
on the Caribbean Sea. I wasn't worried about organizing the catered event at all. The property manager and staffed villas took care of all the planning and I just enjoyed every minute of my party surrounded by my friends.