Reading time 8 minutes
A healthy diet is important for anyone, but especially for an athlete. "Food is fuel for a soccer player," said the "King of soccer," Pele.
I am a private chef in Miami and I would like to tell you about the peculiarities of healthy eating based on the example of a real champion, Lionel Messi. After winning the World Cup, he became even more of an example for the younger generation of players. His personality is now a household name, and his popularity is growing rapidly even among those who are not interested in soccer.
In an interview, Messi said he ate poorly, ate a lot of fatty foods, and drank soda. So, his Italian nutritionist Giuliano Poser prescribed him a Mediterranean diet.
From the outside, it looks easy, but in practice, it is difficult to stick to the regime. The constant flights, training, and performances are very tiring. That's why celebrities hire a personal chef. A person who just knows how to cook cannot replace a professional with many years of experience.
Experience the Celebrity Lifestyle: Hire a Personal Chef
An executive chef or executive catering who cooks for a celebrity can be divided into three types. A chef who helps an athlete keep in shape when the celebrity is on vacation and a chef at home.
1. A chef to maintain a healthy diet
Achieving optimal health and performance requires more than just a quick catering lunch or a delicious meal. A personal chef who specializes in healthy cooking can make all the difference. These private chefs for hire not only know how to prepare nutritious meals but also understand the importance of:
Understanding the vitamin content of food and meal prepping
Sourcing fresh ingredients
Handling stressful situations
Specializing in sports nutrition
Having a personal chef who caters full service to your needs, especially when intense training or during a championship, can help ensure a balanced diet and reduce stress. A personal chef is an expert in all things food-related and can tailor meals to provide the perfect balance of vitamins and energy for athletes.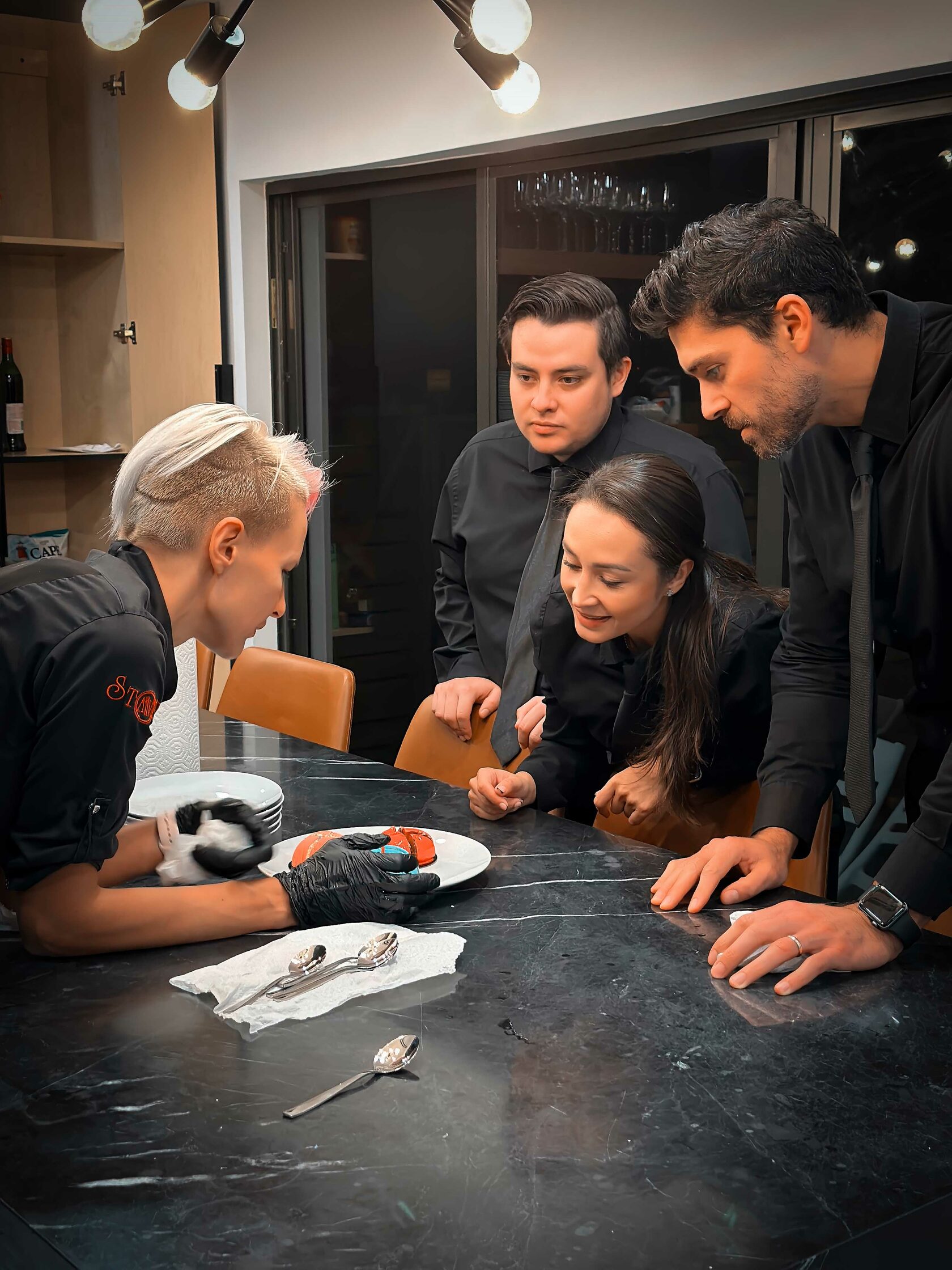 2. In-home chefs
A chef must know different recipes to prepare a variety of dishes for everyday cooking or dinner parties. A personal chef to cook in a home will help maintain a balanced diet and event planning. Without following a strict diet, the athlete won't get all the nutrition he or she needs.
A chef at home provides the following personal chef services:
Organize full-service catering for the whole family and guests;
Do all the grocery shopping and write the menu for the week;
Plan the menu for the luxury events with celebrities, taking into account the preferences and limitations of each guest
Celebrities hire luxury private chefs because they bring a wealth of culinary expertise and the ability to adapt to their exclusive lifestyles.
3. Vacation personal chef
When celebrities come to Florida for a vacation, they look for a top chef in Miami or a catering company in Miami. Catered event meals outside of training are different from the daily diet. You can taste the local cuisine. Every chef in Miami knows a lot about seafood dishes because many tourists come for them.
Athletes often go to social gatherings with exquisite catering. For such luxury corporate events, the star's agents hire a private chef for full-service catering. They have to organize appetizers and hot meals at the same time.
Messi has a property in Miami. I would be interested in developing a special event catering for him when he comes to Florida next time. 👩‍🍳😊
National food habits
Messi is from Argentina, where he spent his childhood. Argentinian national cuisine is characterized by the abundance of meat: chicken, beef, and meat with blood.
However, consuming large amounts of meat can be taxing on the digestive system. Additionally, overindulging in meat can cause an excessive intake of cholesterol and fats, leading to potential health issues. Furthermore, a diet high in meat may also result in nutrient deficiencies, negatively impacting heart health and energy levels. It's important to note that while a high-protein diet is often associated with athletes, it's important to maintain a balanced diet for optimal health.

It is well known that Message follows a high-fat Mediterranean diet that has been scientifically proven to promote cardiovascular health, increase energy levels, and enhance lung and heart function.

This diet, combined with Messi's unique physical attributes, make him a formidable opponent on the field.

In 2014, Lionel Messi made a significant change to his diet, opting to replace sugary drinks and snacks with a nutritious Mediterranean diet and herbal tea. This shift in nutrition has greatly benefited the soccer star's health and performance.



Under the guidance of his Italian nutritionist Giuliano Poser, Messi has incorporated the five key elements of the diet: water, olive oil, whole grains, fresh fruits, and vegetables. He also includes nuts and seeds in his diet.


"Messi's favorite dish is roasted chicken with root vegetables",- his former team FC Barcelona revealed.
"The recipe includes four chicken thighs, a leek, an onion, carrots, and 25-28oz potatoes and seasoned with four smashed garlic cloves, 1oz olive oil, salt, and fresh thyme".
The real reason Lionel Messi vomited on the field: How he transformed his diet
One of the world's most renowned soccer players has always been under immense pressure to deliver top-notch performances on the field. However, he was also known for famously vomiting during games, leaving many to question whether he could handle the pressure. But in an interview with La Cornisa in 2018, Messi revealed the truth behind his vomiting habits - it was all caused by his poor diet choices.
During his early days at FC Barcelona, Messi was grappling with an addiction to soft drinks. He admitted, "I had an unhealthy diet for many years, consuming too much chocolate, fizzy drinks, and other unhealthy foods." This diet caused him to feel ill on the field, resulting in the vomiting episodes.
Recognizing the problem, then-Barcelona Manager Pep Guardiola took steps to address the issue by removing vending machines with soda from training areas to keep them away from the young player. Messi's nutritionist was advised to cut out fizzy drinks and other unhealthy foods such as alcohol, flour, red meat, and refined wheats from his diet.
The dietician working with Messi put a strong emphasis on cutting out sugar, stating, "Sugar is the worst thing for muscles. The farther he stays away from it, the better." He also highlighted the problem with refined flours, noting, "These days, it's difficult to find uncontaminated wheat."
To replace soda, Messi turned to yerba mate tea - a popular choice among other soccer players, including Uruguayan star Luis Suarez and French star Antoine Griezmann.
The traditional South American caffeinated beverage is known for its ability to enhance focus, boost mood, and improve sleep. It also contains polyphenol antioxidants, similar to those found in green tea, which aid in weight loss and maintaining a healthy physique. Additionally, the tea is rich in vitamins B and C, which play an important role in metabolism and keeping the immune system healthy.
In addition to the tea, Messi also takes Bach flowers remedies, helping him to be in the best mindset for matches. The Bach flowers is believed to restore the balance between the mind and body by targeting the limbic system, an area of the brain dealing with emotions, memories, and arousal.
Through these changes, Lionel Messi overcame this vomiting habit and continues to excel on the field. His story inspires anyone looking to improve their diet and overall health, proving that by making the right choices, you can overcome any obstacle. If you're looking to hire a chef near you or a private chef in Miami, feel free to write me.
Features of sports nutrition
The nutrition of every person, especially an athlete, should be complete, balanced, varied, and regular. Those who expend calories in training need much more protein, carbohydrates, and vitamins to repair the strained muscles, than those who do not exercise at all or limit themselves to light loads.
Exactly these rules make it possible to compose a dietary system that meets the main objectives of sports nutrition:
Replenishment of energy expenditures;
Enrichment of the body with vitamins and trace elements;
Increasing athletic performance;
Providing rapid recovery of muscle tissues;
Normalization of metabolic processes;
Normalization and subsequent maintenance of body weight.
Some people need to gain weight, while others just need to keep in shape. When you hire a personal chef ask whether your chef knows the peculiarities of sports nutrition.
The athlete's body also needs an increased amount of vitamins for recovery. To get enough of them, you need to include more fruits and vegetables in your diet.

I always consider the nutritional of products for any luxury catering in Miami or office catering.


Specifics of sports nutrition
Playing soccer involves prolonged physical exertion, and therefore places high demands on the diet. Soccer is an active sport. There is a large load on the heart.
After sports activities, the food should be more nutritious, with sufficient proteins. Foods rich in fiber can be used as they help restore vitamins and mineral salts expended during training and matches
For rapid recovery of muscle tissues and their growth also need protein. Animal protein can be obtained not only from meat, but also from cottage cheese, eggs, and sea fish, and vegetable protein - from beans and cereals.
All of the above foods are suitable for the Mediterranean diet. This was the diet recommended by Messi's nutritionist Poser. Messi had to give up a lot of meat, which he ate as a child.
An athlete's diet should also take into account his height, weight, gender, and type of sport, so ideally, the diet should be prepared together with a coach and a chef.
Sample menu for a soccer player
I'm a personal chef in Miami, but I'm from Europe, so I know a lot about Mediterranean food. I will give you an example of my diet for current and future champions.
Breakfast
Shakshuka with spinach and harissa, toast on whole grain bread with salmon and avocado, mango smoothie
Snack
Fruit salad with honey and homemade granola bars with nuts
Lunch
Tangerine salad with arugula, chickpeas, and stewed chicken breast with herbs
Dinner
Baked dorado with vegetables and herbs
You have to be very careful about changing your diet because your body has to adapt to any new food, which takes time to achieve. When you hire a chef at home service or full-service catering near you, be sure to specify dietary restrictions.
How much does a private chef cost?
As you peruse the options for your upcoming event, you may come across the option of hiring a personal chef. This luxurious service, starting at $150 per person, promises to elevate your catering experience to new heights. You'll be able to customize your menu and have it prepared by a professional chef. Keep in mind that the cost will vary depending on the number of guests you'll be serving, but one thing to note is that the cost of groceries and shopping is not included in the base price.
A chef with a wealth of experience is a true master of their craft, who effortlessly navigates even the most demanding and unexpected of situations, leaving you to bask in the pleasure of your vacation
For example, holidays in luxury villas with a private chef will make your vacation easy and delicious, especially if you are with children. Additionally, these types of vacations can also be a great option for business partners looking to combine work and relaxation in a luxurious setting.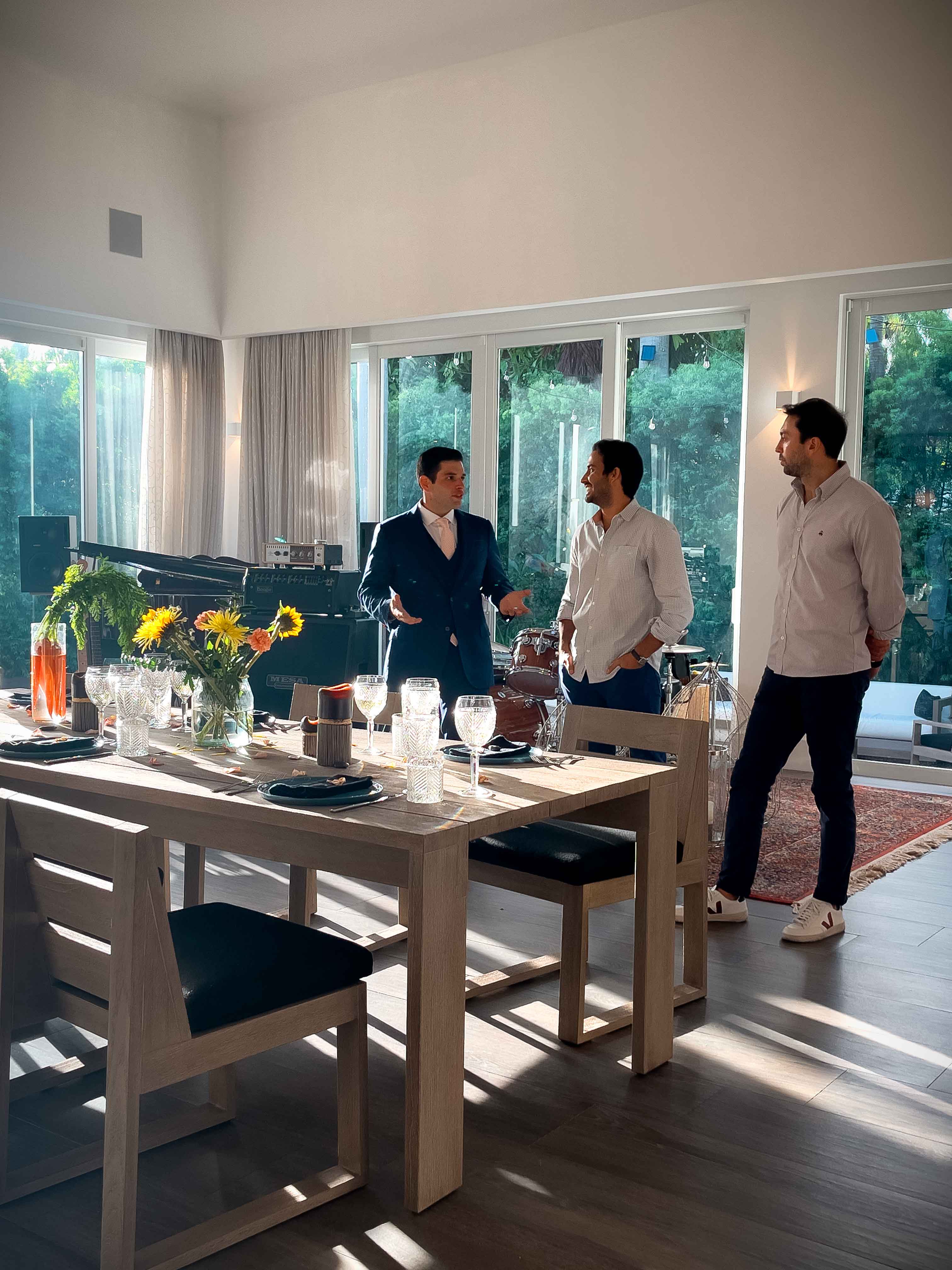 If you want to take responsibility for your diet, but constantly lose focus, the best support is a chef for hire near your locations. You just need to discuss all your goals and wishes and agree on a schedule.
My mission is to elevate the world through the art and culture of food. To not only nourish, but to educate and inspire a love for delicious and visually stunning meals. My goal is to break free from the constraints of fast food and to empower individuals to discover the true joy and pleasure of dining.
Invest in your health and taste buds with my premium culinary expertise, it's a decision you won't regret.