How to cook juicy steak with apricots or peaches
You can change the fruit depending on the season: plum, peach, mango, raspberry, black currant, and gooseberry.
But it's apricot season now 😍😍😍

Try the summer special menu

Apricot has such a bright red color due to the abundance of carotenoids. They improve the condition of the skin, and vision, and also protect cells from aging.
There is a lot of potassium in apricots.

And Sometimes I also marinade steaks, for example, today


Ingredients for cooking steak
1 steak
2-3 tbsp avocado oil
Ginger
Cilantro
Garlic
Lime zest
Salt
freshly ground black pepper
For the salad:
50-70 g of a mixture of dense salad leaves (arugula or spinach, corn, parsley, and romano to your taste)
3-4 apricots
1 carrot (grated)
2 small cucumbers
juice and zest of 1 lime
1 tsp apricot jam
olive oil
1 tbsp grainy mustard
tabasco sauce, optional
salt
freshly ground black pepper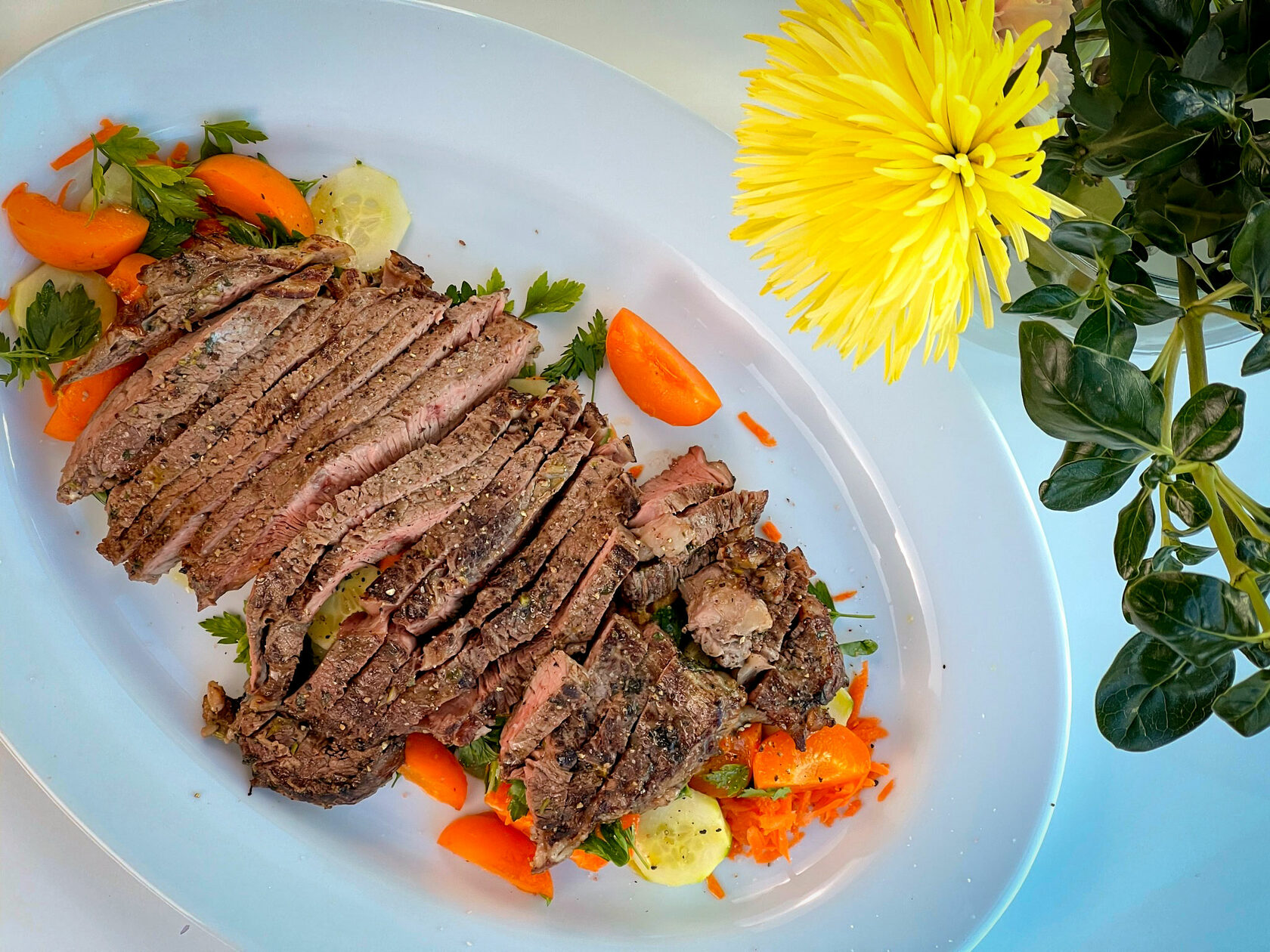 Where to order catering in Miami?
The process of cooking a delicious steak

In advance, 1.5 hours before cooking (or even 24 hours), add all the spices and olive oil to the steak. Wrap it in plastic wrap. Up to 2 hours can be left at room temperature, and put in the refrigerator for a longer period.

Cut the apricot, remove the bones, and cut the flesh into slices. Cut the cucumbers into circles, add to the apricots, pepper, pour lime juice, sprinkle with zest, and leave to marinate while everything else is being prepared.

Heat up a grill pan or an ordinary frying pan, you do not need to pour oil, it is already on the meat. Put the steak and fry, turning every 1.5 minutes.
Place in the oven for 5 minutes or until the desired degree of roasting.

Corporate catering companies in Miami

Transfer the steak to a board, put pieces of butter, salt, and pepper, and let it rest for 5-7 minutes. Then cut into thin strips across the fibers.

Mix mustard with apricot jam and oil. Add salt if necessary. Add tabasco if desired.

Arrange the salad leaves on plates, and sprinkle with dressing. Put apricots and cucumbers, and carrots on the leaves, pour the dressing and serve. Place the sliced steak on top.
Add salt and pepper, if necessary


Enjoy your meal!